Mobile/Texting Setup
Canadian Users: Click Here or scroll to the end of the help article for IMPORTANT requirements for texting in the Canadian market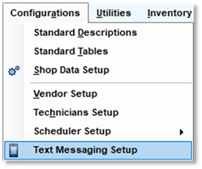 MessageCenter adds the ability to text customers using an assigned dedicated phone number to send messages to a phone number setup in Manager SE, designated as Text Message type.

1. Go to Manager SE's Configurations menu; select the Text Messaging Setup option.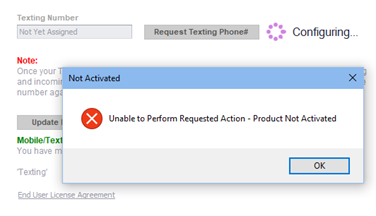 NOTE: User must already have a dedicated texting number assigned to their Mitchell 1 or Snap-on product account to proceed with Text Messaging Setup. That will prevent this message and setup not being completed.



Once the message subscription is processed, you may now click on Request Texting Phone #.
2. Enter your ProDemand or ShopKeyPro credentials (username/password) and click Login to activate the texting number.
The Texting Number now displays the shop's unique assigned Texting Number
3. Click on

to open Standard Descriptions – Phone to create a 'Texting' type phone entry for storage of customer's cellphone number to receive messages.
4. Click on Edit to enter/change the phone Description and Type, then click OK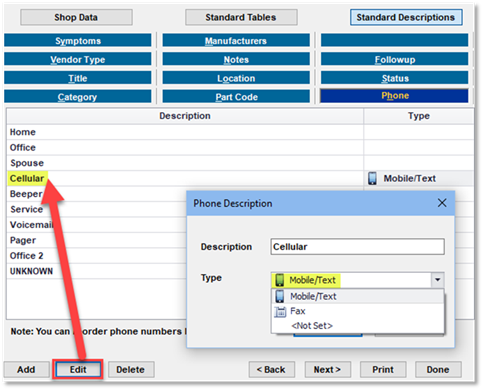 The resulting entry displays in your Phone list.
TIP: You may also drag this phone entry to a higher position in the list.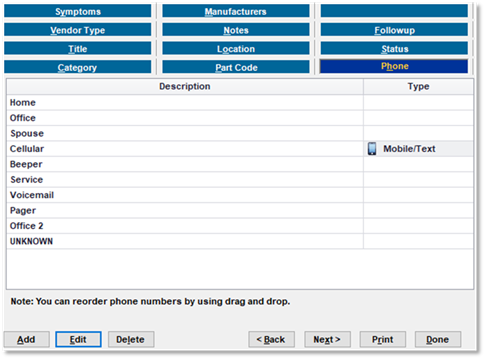 5. Click on the End User License Agreement and review how to comply with regulations when using the texting feature to contact customers. Scroll all the way to the bottom for the Accept option to become active.
Message Center is now configured to send text messages to customers directly from Manager SE screens.
---
IMPORTANT requirements for texting in the Canadian market
Does MessageCenter texting in Canada require a specific version of Manager SE?
Yes. Canadian shops that wish to use this MUST be on Manager SE version 8.2.0.153 or higher. This will ensure the updated EULA intended to address Canada privacy regulations (CASL) is included.

Canadian shop customers are responsible for following language added to Manager SE product EULA section 4:
The End User in Canada is solely responsible for adherence to the Canadian Anti-Spam Law ("CASL"), as well as any additional local, provincial or Federal laws pertaining to the use of SMS texting. This includes the following:
1. Get opt-in consent from each potential recipient prior to sending any communication to them, particular for marketing or other non-essential communications.
2. Only communicate during an end user's daytime hours unless it is urgent.
3. SMS campaigns should support HELP/STOP messages, and similar messages, in the end user's local language.
4. Do not contact end users on do-not-call or do-not-disturb registries.
What's the fastest way to get the Manager SE 8.2.0.153 release if not already installed?
In Manager SE, click on Help – Check for Updates; download & install the update on their PCs.
Is the new texting EULA visible to customers somewhere inside Manager SE?
Yes, EULA displays during initial texting setup. It can also be accessed later by going to Configurations -> Text Messaging Setup – click on link.
When the shop requests their phone #, it says their shop area code is not available. What do I do?
Use a provincial overlay [below]. Some area codes may be exhausted, but the overlays are good for the entire province. Example: While the 250 area code is exhausted, three other BC overlays are available.